The personal homepage of ME, Dave Brockie. This site is my personal rant-arena and look-at-me-I'm-cool page. Don't use it to try to keep up with GWAR, DBX, or anything else I do but remember everything else you hear about me (which is probably nothing) is a lie! Located on the GWAR server, under the watchful eye of Scott D. cyber-slave extraodinare, this site will continue to grow and mutate (at a snail's pace) so check back often (if you enjoy being disappointed). I enjoy peeing with the door open, while eating cold Beefaroni right out of the can.
---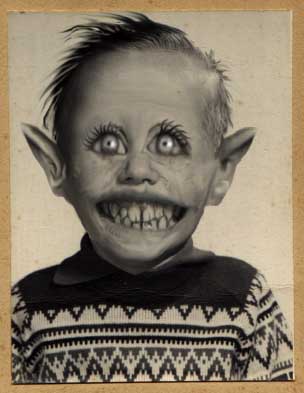 Brockie, age 4, after he saw a picture of Balsac's face
---
"ODERUS RISING FROM THE DEPTHS"
Photograph by Chris Radok

On Jan. 10th of this year we were all shocked and saddened to get word
of the brutal murder of our good friend, artist Chris Radok. Chris
was stabbed to death after encountering a burgler in his home. The guy
killed him over nothing and was caught soon after. It's a complete
tragedy. Chris was known and loved by many and was a highly regarded
photographer. And he was a truly unique and wonderfully twisted person
that I could count on running into a few times a year.

Chris was many things, but I will always consider him and his camera a
treasured and respected part of the GWAR extended family. He was a
welcome fixture at many a GWAR gig in Charlotte, and very often
elsewhere. Never afraid to get right amongst the thick of the flailing
fists and geysers of spew that are a big part of any GWAR show, Chris
(or "Kodar"as many called him...) took the best live shots of GWAR I
have ever seen. Often I would be in the middle of a GWAR show and look
up to see Chris in a spot where any sane photographer had no business
being. But Chris wasn't sane...but he wasn't insane either. He was
just a great and talented man and he will be sorely missed.

Above is my favorite shot Chris ever took of me. This was done in the
old Richmond Pumphouse and we got it by having me lay down in a puddle
of ice-cold water. How I cursed him that day!

But I shall have my revenge! Because I knew Chris well, and because I
know how much he loved a good sick joke, I have a Chris Radok joke for
you, but only if you can take it. Chris could.

JOKE -

YOU : "Hey Brockie, weren't you upset when you heard that Chris had
been stabbed to death?"

THAT ASSHOLE DAVE BROCKIE : "Yes, in fact I was gutted!"

See you in HELL, Chris!!!!!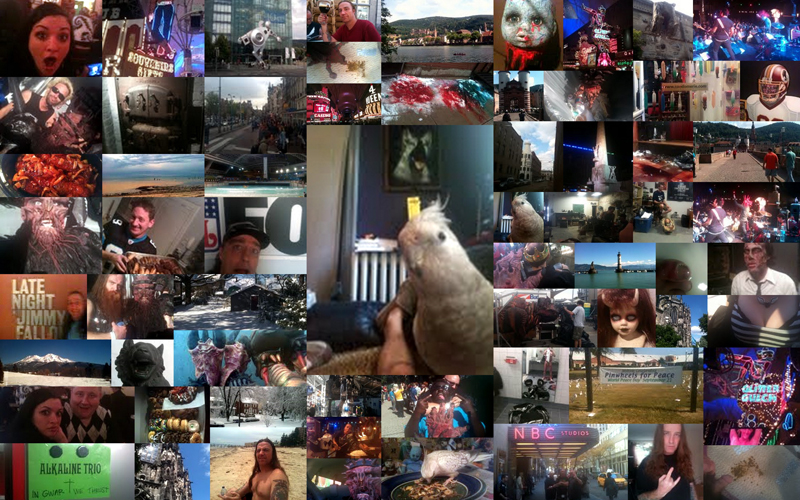 The NEW Slave Pit, in my NEW office, Jan. 25th, 2011

And welcome once again to the page that never ends! It's the website
THAT WILL NOT DIE, working on it's tenth year! And I remember it's
humble beginnings, when I built it on Netscape software...when I would
never update it (some things never change)...ahhh...the years that
went by...and always we had this website to bear mute testimony to the
raukus panapoly of life's endless parade.

Above you can see a Picasa-made collage of some of the highlights of
this insane year. We toured relentlessy, put out another album, and
appeared everywhere from the shores of Australia to the stages of
Jimmy Fallon. All in the never-ending quest to elevate GWAR to the
level of granduer it truly deserves, or at least until we can afford
to get the slaves health insurance. Neither one is likely, but fuck
it, the chase is the thing! And we will keep doing that, by that I
mean this year will see the end of our completely idiotic Two-year
long 25th Anniversary Slay-a-Bration. Apparently our 26th Anniversary
has started as well! Fuck all that, I am getting sick of that crap.
It's making me feel old. Wait...I am old!

This year we will be touring Europe in the spring (including a show at
Download), trying to make another Crack-a-thon happen (hopefully
Oderus won't smoke the money this time), continue the re-birth of the
GWAR-b-Q in a bigger and better way and beyond that who knows? I'm
sure there will be more touring in the fall, I'm just not sure where.

In other news---tons of new stuff in the Money for Art page and the Piggy
Page(including my "Face Getting Jacked-Off On in Front of Weird Figure
in Armor" series), new asinine antics in Stupid! and finally my novel,
Whargoul, is finally out! So check it out, Abner!

Contact me at maggotmaster13@gmail.com if you want to get your hands on original Brockie art, whether its Oderus masks and hands, prints of classic Brockie illustrations, custom-made pieces of all description, DEATH PIGGY singles and CD's and much, much, more! There is a considerable demand for this stuff so get your paws on some NOW before it is TOO LATE. And just remember, everybody needs a Brockie on their wall. See the latest art additions here.
Miss an update? Impossible! Go here to reminisce...
Trade worthless sheckles for valuable prizes--
CHECK BACK OFTEN FOR NEW PIECES!
The sad and continuing saga of Chippy the Chippapotomas

Because you need to feel better about yourself

Malcontents Unite to Make Loud Noises
Thoughts on our new dumb-ass war
Undercover reporter exposes IMF protests as silly
My side band (where I get drunk and act like an idiot)
If you like undead Nazi's this page is for you!
If you can't make good art, criticize someone else's
Squiggles, white-out, confusion...
The bloody epic of Blackbeard, terror of the Atlantic!

Record your band with the pros, or at least someone that knows them
April 29, 2010, Slave Pit.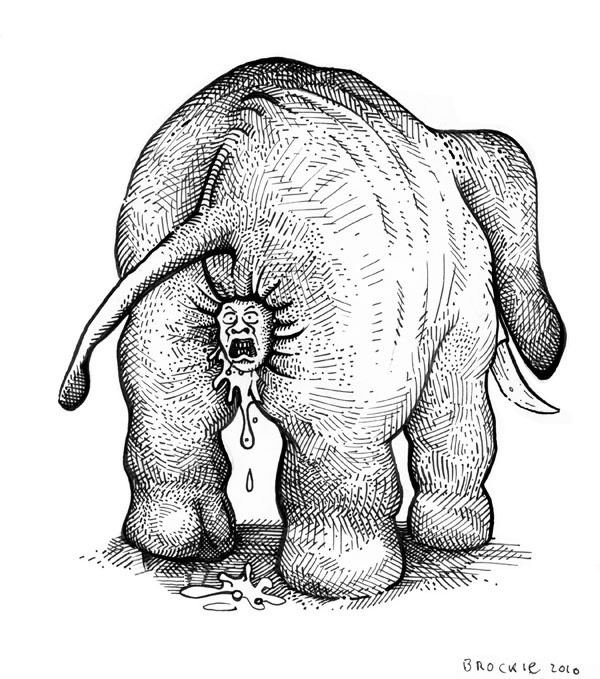 There is war, and rumors of war. Thats right folks it's once agin time to dust off the old rubber manacles and hit the road again. Still a month off, it begins a touring schedule that will span the remainder of the year. Apologies for not updating the site in a while, been busy throwing a crack-a-thon. To all who gave money to us THANK YOU. You might wonder, what the hell is it for? Am I really paying off Oderus' crack habit? Of course not, silly! You're paying off MY crack habit!

But in truth, the money is going to fund a new horizon for GWAR and Slave Pit in general. That horizon is webTV. I believe it's the wave of the future and we are staking our claim to it's fortunes. That's right, from now on we have our own webTV station, thanks to the good folks at Ustream! The crack-a-thon was but the first stab in a flurry of blows to follow. We now have the cameras and computers, the stands and the mics...the TOOLS you need to create webTV. Which we shall with gay abandon. So stay tuned at crackathon.tv until further notice!

You might wonder what a beast from outer space does with his time off, and I have to admit to being hopelessly addicted to Nazi Zombies on the Xbox! If you have played this WW2 horror shoot-em-up-with-your-favorite-WW2 weapons then you know what I mean...until you have made a 1000 zombie heads explode you can never know. In fact "Celebrity Zombie Hunt" is a big hit on crackathon.tv. Well, no it isn't.

Anyone who is waiting for art maybe you can console yourself that I have squandered away this time I could have spent catching up with my clients, wasting endless hours frantically working the double-stick...my heart sings as heads explode!

Facebook page growing out of control. Chippy sighted in Brooklyn. Thinking about new songs. Trying to orginize GWAR TV. Repairing suit. Trying to draw every day. In good health. Wake early, sleep well. Exciting prospects beckon. Still there is conflict. People try to draw you into their world of misery. Stay away from unhappy people.They will try to make you unhappy. Have broken four kindles thus far, and they have replaced every one free of charge. Hoping to do our next live web cast not this weekend but the next. Was very impressed by the Richmond Roller girls! Went to see the flat-track races at the Convention Center. Lots of people there! Made chicken soup a couple days ago. About two gallons of it. Might have to move out of both my house and the Slave Pit in the next month. Am deeply moved by the contributions you made to our cause...thank you from the bottom of my black heart. I am on Chapter 22 of my book at www.rvanews.com. There is a fucking fly in here. A big fat black one. I have been wearing the same pair of underwear for the last week.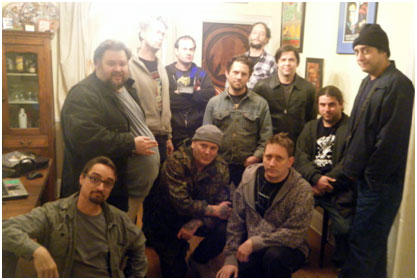 Slave Pit shareholders meeting, Jan. 25th, 2010
(from left to right, Mike Bonner, Mike Bishop, Don Drakulich, Matt Maguire, Danny Black, Bob Gorman, Scott Krahl, Mike Derks, Brad Roberts, Cory Smoot, Davis Bradley. Not pictured is Dave Brockie as we couldn't figure out the timer on the camera and somebody had to take the fucking picture)
…and welcome to the next decade. Let's hope it doesn't suck as bad as the last one! Aren't you glad the whatever you call the first ten years of this century are over? I was asked recently what I thought of this time*, and it caught me off guard as I realized I really didn't have a feeling for it…it was kind of like being dead. September 11th, 2001 ruined the rest of the decade for most, while others found it hilarious. Despite GWAR's best attempts to save "the oughties", they blew... 911 was like two gigantic tombstones presiding over a gaping mass grave that swallowed up just about everything cool for the last ten years. We are left with a ruined economy and a "forever war".

But it wasn't all for naught…Oderus is still on FOX News!
Ahhh…2010…it just sounds cool. Really, after eight years of George Bush Jr., wouldn't anything be an improvement? Kinda like the Redskins…(and hiring Shanahan won't help unless we get rid of that name). So here we are, a new decade laid out before us, just begging to be fucked (have you had sex in the new decade?) And how do we go about fucking the new decade? Put your faith in GWAR, of course! Because if the "oughties" sucked in many ways, it didn't suck for GWAR. We went from being the biggest joke in metal to actually becoming a band again. We toured relentlessly and finally headlined the Sounds of the Underground Tour (into the ground!). We signed with a new label, drove it into destruction, and returned to Metal Blade. We got back to Europe and played our biggest show in history at the Wacken Festival. And the 25th Anniversary of GWAR saw us raise our hideous standard in places unthinkable as Oderus became the official "Interplanetary Correspondent" for the FOX News late-night talk show, "Red Eye", hosted by the delightfully dimpled Greg Gutfeld. Un-deterred by a sagging economy and an un-winnable war (indeed, inspired by…) GWAR marches on. Or at least collapses down a flight of stairs, right into a scurrying procession of heavily –laden Brazilian waiters!
So what does this next year hold for GWAR? Well, we will get to that soon enough, but for right now I intend to concentrate on ME for a little while…well, not actually me, more like YOU, or at least this list of people who have been waiting around for the art they have ordered from me. Yes, that's right, it's the "gosh I am sorry I am so lame about getting this stuff done but SHIT one man can only do so much!" part of the website. Of course there are all the lies that I told… but some of you will be happy to know that for at least the first six weeks of this year that I will be hanging out in my studio, getting caught up with this massive pile of unfinished commissions! So check these pages for further developments…here's a re-working of "Servant of Death's Head" for Dave in Cleveland!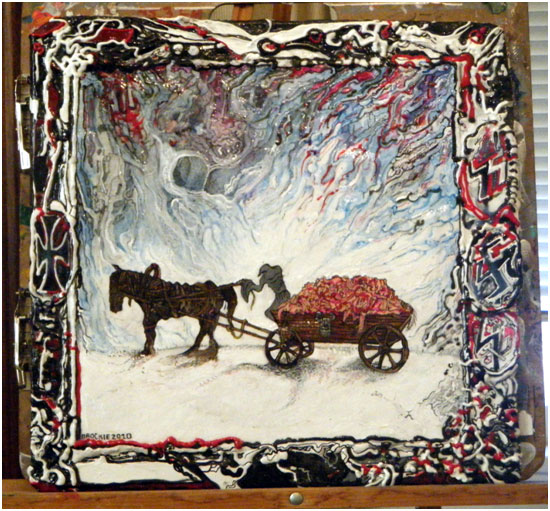 Contact me at maggotmaster13@gmail.com if you want to get your hands on original Brockie art, whether its Oderus masks and hands, prints of classic Brockie illustrations, custom-made pieces of all description, DEATH PIGGY singles and CD's and much, much, more! There is a considerable demand for this stuff so get your paws on some NOW before it is TOO LATE. And just remember, everybody needs a Brockie on their wall.
I suppose this is the part where the evil overlords of GWAR sit back, count beans, and plan accordingly. We plan to tour the shit out of "LUST IN SPACE" so look for a full announcement pertaining to all things GWAR very soon…I know we are already booked for a bunch of Europe festivals and there are rumors of another U.S. run in the spring. As far as studio projects, well let me tell you that there is a bunch of cool stuff brewing. We want to take this momentum we have seized and continue to build on it…and we have the perfect project to do just that…but I can't say anything else…yet.
Friend me on Facebook. Keep up with my book at www.rvanews.com. Hire Chris Bopst to suck off your child.
Now I'm gonna go pop off with my top off!

*did anyone catch the Oderus Sirius radio take over on Liquid Metal? Cool shit!
...almost done! And here's my latest...for a band called "Trog"...I think they are gonna do an action figure or something with it as well. As you can see I have gotten a lot of shit done this tour but as usual there are many people still waiting for their work...I am doing my best and even though I didnt get as much done as I would have liked to I can look forward to taking the rest of Dec. and all of Jan. and finally getting caught up with everything! And then headlong into a bunch of new projects, none of which I can mention now.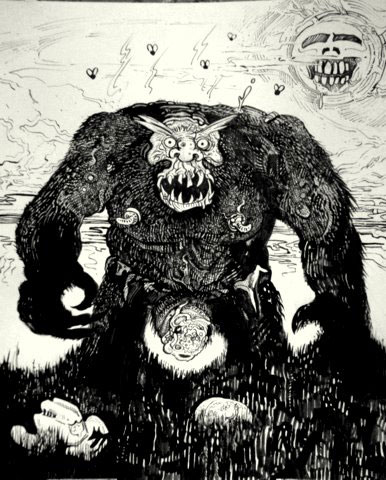 "Trog"
Brush and India ink
2009
At the end of this tour I feel better than I have in years, fully recovered from that pesky herniated disc I got a few years back. GWAR is kicking ass, my column is still going strong at www.rvanews.com (just look under the GWAR section), and Oderus is still officially an interplanetary correspondent for FOX New's Red Eye!
I have been cataloging a lot of the mayhem of the last year on my Facebook page...so friend me, but plz dont invite me to your Mob Wars game, or your vampire clan, or put up stupid bullshit on my page. That is what the comments section is for.
And if I owe you work, plz be patient! It's getting there and I am reasonably sure I will have everything wrapped up by the end of January. Look for another update before the whore-a-days! And no, there is no New Years Show...yet, anyway. If someone would come forward with the right amount of cash we would do it...maybe a DBX show is in order!
So we'll wrap up what was one of the craziest years of my life, next time...
---
Miss an update? Impossible! Go here to reminisce